Part 1: Fixing the bikes before hitting the road.
After slamming 28000rps respectively (400€) and 30000rps ( 427.5€) , Lolo and John get their playthings in Indian style, poorly maintained, dirty and asleep.
A few days of effort and that is the end result. Ready to be awakened, hope it will last, the Indian roads are really rough …
---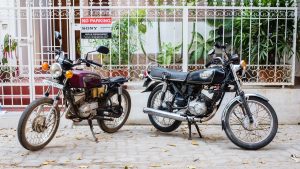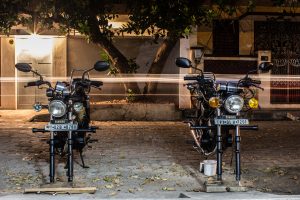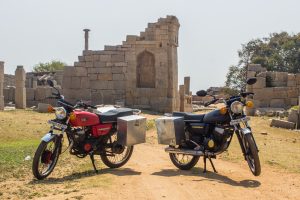 ---
Part 2: On the way to Bangalore (Bengaluru).
After 324 km, of which 70kms of nightmare, potholes, stones, reckless drivers, vehicles of all kinds, through banana plantations, rice fields and mountains, we finally join Bangalore.
Passing through the small two-lane of the Indian highways, before flowing into the flow of traffic in a city of nearly 9 millions. The Silicon Valley of the country keeps all aspects of an Indian city, contrasting modernity and wealth with traditions and resourcefulness.
---
---
Part 3: A ride to Hampi, city lost in the desert .
After leaving the neighborhoods and villages around Bangalore, we are lost in the desert, on the NH7 head north before turning left to Hampi.
First mechanical problems, first welds which fart for PY02 and PY01 clamping primer. Despite the new paint, all new cases in the back and our bikers look, the old motorcycles arises.
Discovery of Indian roadhouses (kind of small establishments lost beside highways) , first nights at Indian motels, discovering the true rural hospitality reputation.
We arrive in the ruins of Hampi, only evidence of the past power of the kingdom of Vijayanagara. At the time about 500 000 inhabitants lived here and now is reduced to a tourist resort of only 10 000 inhabitants.
---