UNE AVENTURE HUMAINE DE 13.000KM AU GUIDON DE NOS MOTOS     |       A HUMAN ADVENTURE OF 13.000KM ON TWO WHEELS
Une épopée de 10 mois sur les routes du sous-continent indien, à la découverte de cultures et de traditions d'une diversité incroyable.

Un hommage à ce pays au million de dieux, baigné de couleurs et de saveurs et peuplé de sourires et de contrastes.

Le témoignage d'une aventure humaine dans une partie du monde où le temps semble s'être arrêté et l'impossible n'existe pas » 

 

A 10-month epic on the roads of the Indian continent, discovering cultures and traditions of incredible diversity.

A tribute to this country of millions of gods, bathed in colors, flavors and populated with smiles and contrasts.

The testimony of a human adventure in a part of the world where time seems to have stopped and the impossible does not exist.
Après avoir parcouru plus de 13?000 km en Inde au guidon de deux motos, Loïc Terrier et Jonathan Lux vous invitent à découvrir une partie de leur aventure à travers une série de photographies saisissantes et d'anecdotes authentiques. Deux amis d'enfance devenus photographes autodidactes et partageant la même passion des rencontres et des voyages au long cours.
After having travelled more than 13,000 km in India on two motorbikes, Loïc Terrier and Jonathan Lux invite you to discover their journey through a series of striking photographs and authentic anecdotes. These two childhood friends and self-taught photographers share the same human values and passion for encountering people. A 10-month story on the roads of the Indian subcontinent.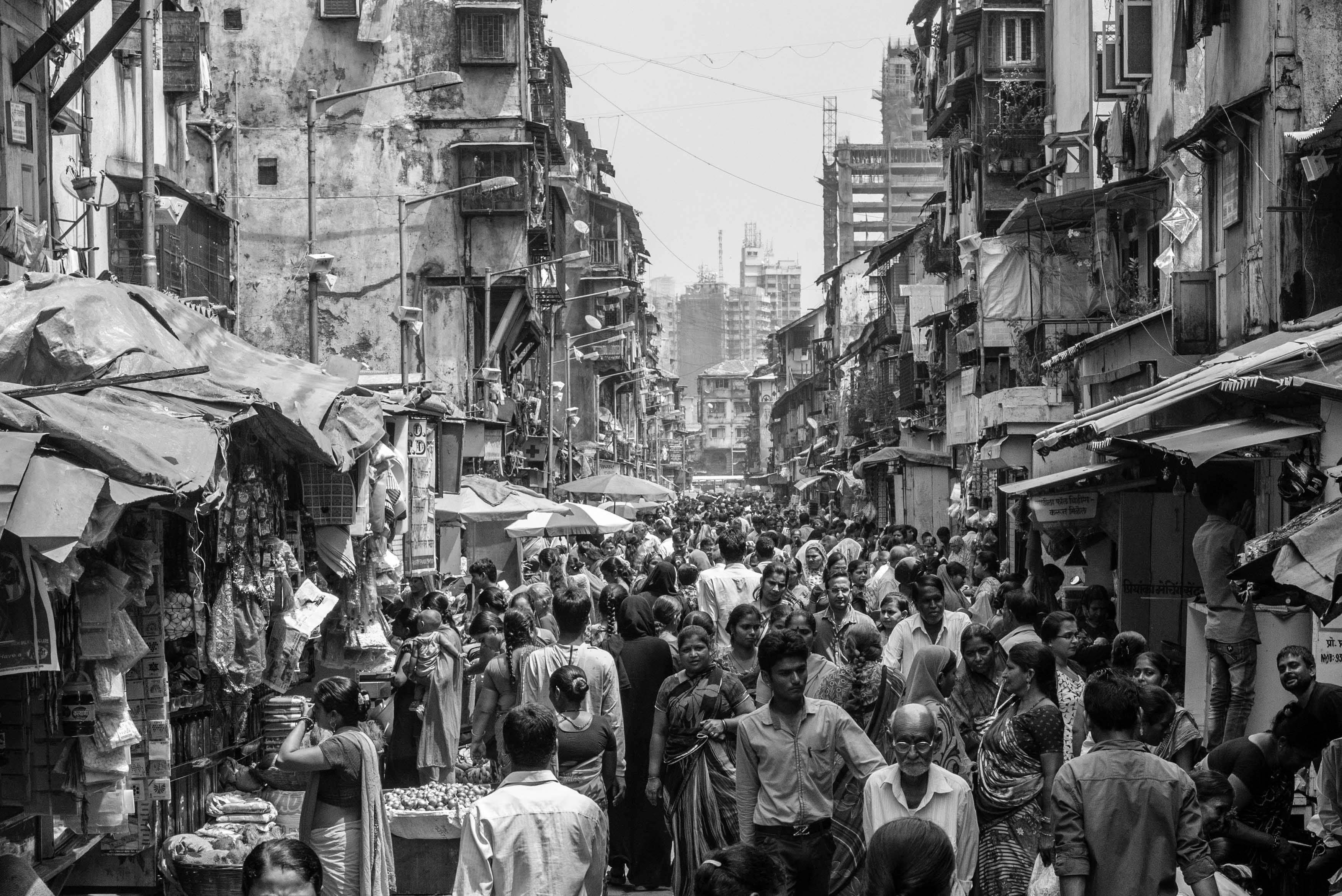 Mumbai, 26 million d'habitant, mozaique de constraste. |  Mumbai, 26 million inhabitants, mozaic of contrast
Dans les ruelles pleines à craquer du village de Barodiya, se déroulait un festival de magie hindou. Toutes les familles étaient en fête, heureuses et le sourire aux lèvres sur leurs paliers de portes. Rajasthan
In the crowded alleys of the village of Barodiya, a Hindu magic festival was taking place. All the families were celebrating, happy and smiling on their doorsteps. Rajasthan
Perles bleues. En poussant la porte du centre de soins ouvert par mère Teresa dans les années 1950, ce regard pétillant m'interpelle. Assise sur le trottoir accompagnée de ses deux fils. Calcutta
When i push the clinic door, opened by Mother Teresa in 1950, a woman's sparkling look appeals to me. Sitting on the sidewalk with her two sons, her smile remains indelible. Calcutta
Sur le marché de Bangalore. L'une des plus grandes ville de l'Inde accueille un fourmillements incroyable d'hommes et de femmes dans son marché centrale.
L'inde inspire sans cesse, et n'est pas sans rappeler des images de Bollywood.
On the Bangalore market. One of India's largest cities is hosting an incredible tingle of men and women in its central market.
India inspires constantly, and is reminiscent of images of Bollywood.
À gauche, le turban originaire du sud Rajasthan. À droite, le turban de la religion Sikh. Amritsar.
On the left, the turban from South Rajasthan. On the right, the turban of the Sikh religion. Amritsar.
Rajasthani fumant le bidî, cigarette typique de l'Inde. Bikaner
Rajasthani smoking the beedi, a cigarette typical of India. Bikaner
Selon la croyance populaire, les Brokpas faisaient partie de l'armée dAlexandre le Grand et seraient restés dans la région après l'abandon de la compagne militaire au bord de la rivière Indus il y a plus de deux mille ans.
According to popular belief, the Brokpas were part of the army of Alexander the Great and stayed back in the region after his defeat over two thousand years ago nearby the Indus river.
Intendance: boulons et rondelles, toutes les pannes sont belles.
A mechanical stopover: bolts and washers, all breakdowns are beautiful.
Jodhpur , la ville bleue. Autrefois le bleu indiquait que ces maisons appartenaient à des membres de la caste des brahmanes. Aujourd'hui il offre surtout l'avantage de protéger de la chaleur et repousse les moustiques.
Jodhpur, the blue city. In the past, blue indicates that these houses belonged to the members of the Brahman caste. Today, it offers the advantage of protecting the heat and repelling mosquitoes.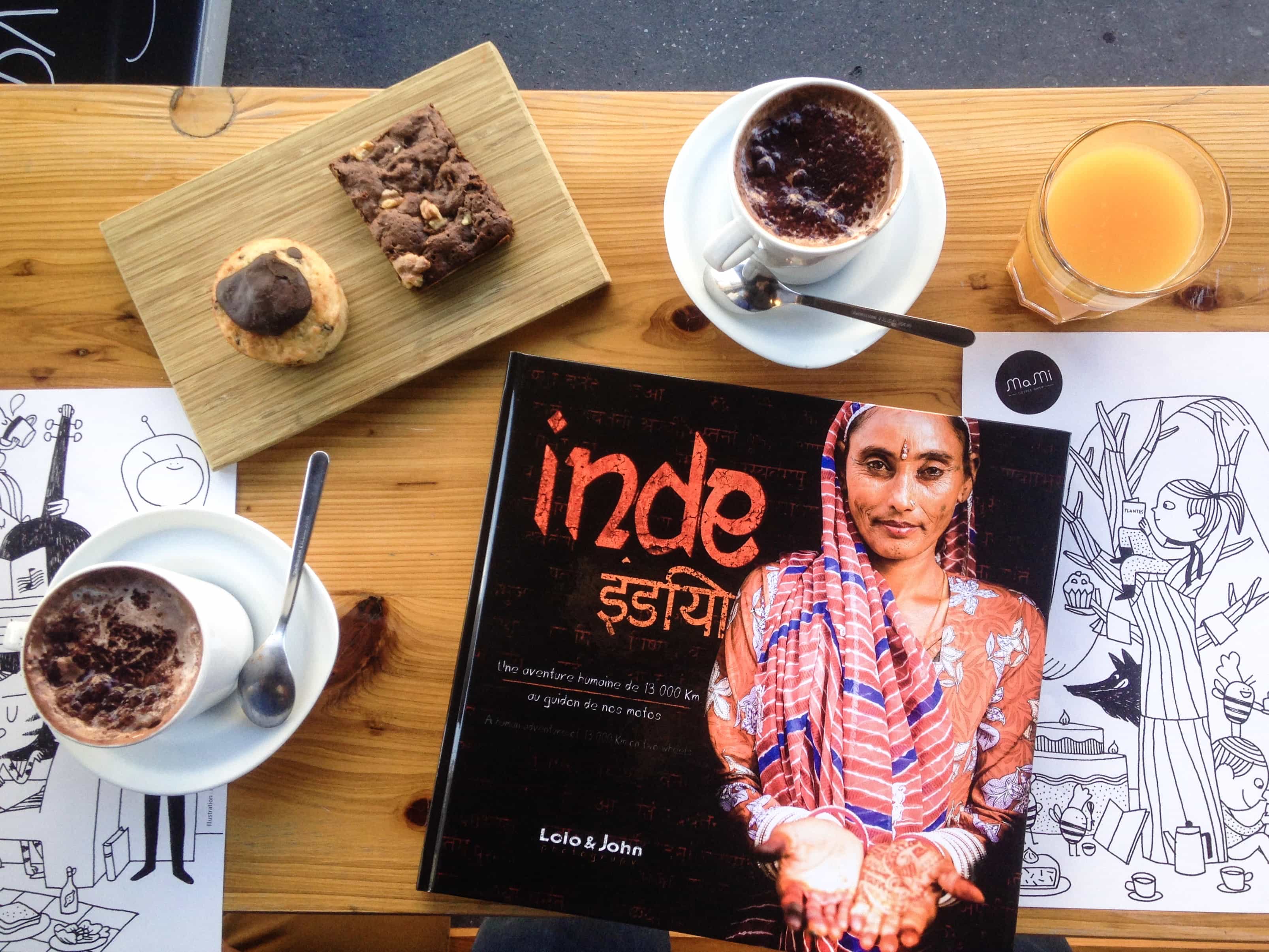 INDE – UNE AVENTURE HUMAINE DE 13.000KM AU GUIDON DE NOS MOTOS, AUTO-ÉDITÉ À 1.000 EXEMPLAIRES EN 2017
INDIA – A HUMAN ADVENTURE OF 13.000KM ON TWO WHEELS, SELF-EDITED AT 1.000 BOOKS IN 2017
Après 6 mois d'expositions au retour de notre voyage, l'idée de créer un livre émergeait dans nos têtes, 6 mois d'édition plus tard, le premier exemplaire de notre tout premier livre sortait des presses de l'imprimerie Caladoise à Villefranche sur Saône. Aux côtés de Maxime, gérant de l'imprimerie, c'est 10 mois d'aventure moto à la rencontre des populations locales qui prenait vie sous nos yeux.